Brain-Computer Interface (BCI)
On May 3rd Bridging Voice was excited to host a brown bag discussion and demonstration on Brain-Computer Interface (BCI) technology at the JCC in Manhattan.
The key presenter, Ms. Theresa Vaughan, is a researcher and Project Coordinator for BCI Clinical Studies at the National Center for Adaptive Neurotechnologies (NCAN). The NCAN is part of the Wadsworth Center, the Public Health Laboratories of the New York State Department of Health in Albany, New York.
Ms. Vaughan demoed the Wadsworth BCI Home System, a speech-generating device for people with severe speech communication disorders like locked-in syndrome, ALS, and cerebral palsy. She demonstrated how such individuals can communicate when expressive speech is completely lost, but receptive speech remains. Our Technical Director, Nachum Lehman, was the brave volunteer who donned the cap and took the BCI2000 for a spin.  He was able to quickly calibrate and begin using the device.  While the BCI Home System was significantly slower compared to traditional eye tracking devices, it was surprisingly accurate.
This BCI System relies on BCI2000, an open-source software tool for real-time signal processing developed at the NCAN. In the Home System, BCI2000 is combined with commercially-available speech-generating software, Communicator 5.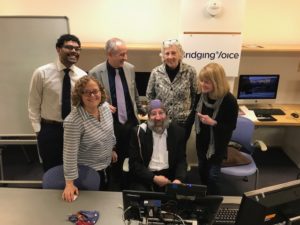 While there are still many unanswered questions regarding how BCI can best be optimized, there is no doubt that this is an exciting frontier.  The group discussed which patients could most benefit from this technology, as well as what the next stage of research may hold. Ms. Vaughan highlighted that there are many new versions of the technology being developed, and new research being conducted.  We hope to see great strides with this technology in the future.
BCI may be effective for people who are on the edge of their current technology.  If you'd like to learn more you can contact Bridging Voice or NCAN for more information. Bridging Voice is committed to staying abreast of all cutting edge AAC technology and will host more innovation brown bags in the coming months.